Iran Adventure
Booking Dates
06/05/2023 through 11/20/2024
Travel Dates
06/05/2023 through 11/23/2024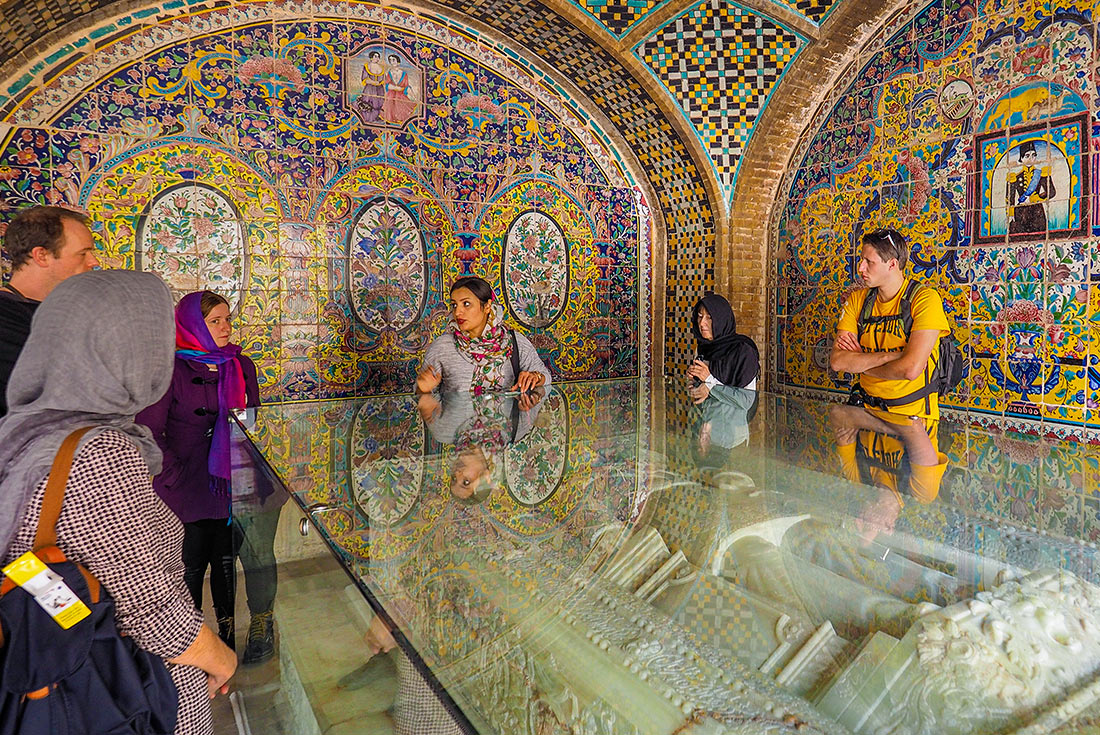 Iran Adventure

Conservative and unconventional, deeply religious and deeply surprising, Iran doesn't fit into any easy pigeonhole. Spend two weeks following the ancient Silk Road through this under-touristed country to discover refined Islamic cities, colourful bazaars, ancient ruins, fascinating nomadic cultures and shimmering deserts. Whether you're relaxing in a teahouse in Tehran, enjoying guided tours of ancient cultural sites, or breaking bread with locals on the harsh Iranian plateau, the warmth and hospitality of the Iranian people is endearing, and the profound beauty of their land is mesmerising.


Activities
Tehran – Golestan Palace Entrance
Tehran – Leader-led walking tour
Tehran – Iran National Museum
Yazd – Leader-led walking tour
Yazd – Fire Temple and Towers of Silence visit
Yazd – Amir Chakhmaq Complex
Yazd – Kharanaq-Chak-Cahk Excursion
Abarkooh – Cypress of Abarkooh
Abarkooh – Ice Houses
Shiraz – Leader-led walking tour
Shiraz – Nasir-ol-Molk Mosque
Shiraz – Aramgah-e Shah-e Cheragh
Shiraz – Bagh-e Eram Gardens
Shiraz – Home cooked meal
Persepolis – Entrance and guided tour
Izadkhast – Complex including castle and Caravanserai
Esfahan – Khaju & Si-o-seh Pol Bridges
Esfahan – Sheik Lotfallah Mosque
Esfahan – Iman Mosque entrance and guided tour
Esfahan – City Tour
Esfahan – Ali Qapu Palace
Esfahan – Qeysarie Bazaar
Esfahan – Manar Jomban (Shaking Minarets)
Esfahan – Vank Cathedral
Kashan – Meal with local family
Kashan -Tabatabaei Historical House
Kashan – Bazaar
Kashan – Fin Gardens (entrance fee and guide)
Highlights
Discover an Iran beyond the media portrayals of a repressive and dour regime – this is a country full of warm, lively and friendly people.
Explore the rich history told in the ancient ruins that lie across the country, many of which sit in remote and isolated landscapes that only add to their magic.
Experience the wondrous remains of the ancient capital of Persepolis – the scale and grandeur will leave you in no doubt that this was once the centre of the known world.
Immerse yourself in rural nomadic life with a remote homestay with the Qashqai people in Fars Province, enjoying meals, stories and songs.
Slip into the heeled-sandals of a Silk Road merchant with an overnight stay in a classic 16th-century caravanserai, located in the vast salt desert of Zein-o-din.
| Day | Description | View All |
| --- | --- | --- |
| Day 1 | Tehran | Details |
| Day 2 | Yazd | Details |
| Day 3 | Yazd | Details |
| Day 4 | Caravanserai Zein-o-din | Details |
| Day 5 | Shiraz | Details |
| Day 6 | Shiraz | Details |
| Day 7 | Persepolis / Fars Province homestay | Details |
| Day 8 | Izadkhast | Details |
| Day 9 | Esfahan | Details |
| Day 10 | Esfahan | Details |
| Day 11 | Esfahan | Details |
| Day 12 | Kashan | Details |
| Day 13 | Tehran | Details |
| Day 14 | Tehran | Details |